This year I decided to start something new in order to keep my blog a bit more alive than dead. I named this new feature the Metal Periscope.
What I will be doing is posting an article in the end of every month mentioning all the metal releases of that month I deem worth listening to. I won't be doing full-scale album reviews, though. The format will be more Twitter-like.
So, without further ado…
Welcome to the Metal Periscope of January 2018!
Watain – Trident Wolf Eclipse

Watain is a relentless and cruel black metal machine that smashes your ears with blast beats, cuts your eardrums with tremolo picking and destroys your self-esteem with shrieking vocals. Trident Wolf Eclipse is no exception.
Shining – X – Varg utan flock

This is another Swedish black metal album with "wolf" in its title. Niklas Kvarforth, a "wolf without flock" and insane genius of dark arts, presents us with his newest work, which is mostly cold and distant, but still has some oddly comforting moments. Bra jobbat!
Summoning – With Doom We Come

The masters of dark epics Summoning once again unleashed upon us the sonic equivalent of taking a stroll in Mordor. It's time to pick up your sword and shield, gather your orc friends and march through the barren landscape.
Sinistro – Sangue Cássia
Sinistro was one of the biggest surprises of 2016 for me. Luckily, the portuguese kept the high quality of their previous release on Sangue Cássia. Low-tuned guitars, crushing riffs and mesmerizing vocals of Patrícia Andrade are the key elements that make this album so memorable.
Joe Satriani – What Happens Next

I am fully aware that this is not a metal album, but joe satriani is my all-time favourite guitar player. What happens next is maestro satriani teaching us that guitar playing is not about shredding tons of notes per minute, but rather about making your instrument sing.
Hamferð – Támsins Likam

This Faroese band is actually the biggest surprise of January for me. We do not live in the 90's, so good doom/death groups are not in abundance nowadays. But what makes Hamferð's sound stand out are the vocals of Jón Aldará (Barren Earth, Clouds) that are both haunting and deeply emotional.
Corrosion of Conformity – No Cross No Crown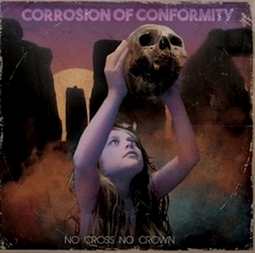 No Cross No Crown can be considered a return to form for CoC, and it will likely please the old school fans of the band.
Bloodshot Dawn – Reanimation

A good melodic technical death album. The problem of these Englishmen is that their sound lacks something special, something that would make them stand out.
Heidevolk – Vuur van verzet

Heidevolk stay true to their folk metal style with great clean male vocals. Vuur van verzet (Fire of Resistance) is a really good album from start to finish with a standout track A Wolf in My Heart.
Аркона – Храм (Arkona – Khram)

While most of the folk metal mastodons today either stagnate or try to modernize their sound, Arkona is steadily expanding its sound, making it more epic, more dramatic and, dare I say, more progressive without showing disrespect to the band's roots.
Magnum – Lost on the Road to Eternity

Once again this is not a metal album, but Magnum is such a great band that I couldn't ignore it. Tony Clarkin's songwriting and Bob Catley's voice were the key components of the band's sound throughout the years, and this album is no exception. Progressive/hard rock at its best.
Mammoth Grinder – Cosmic Crypt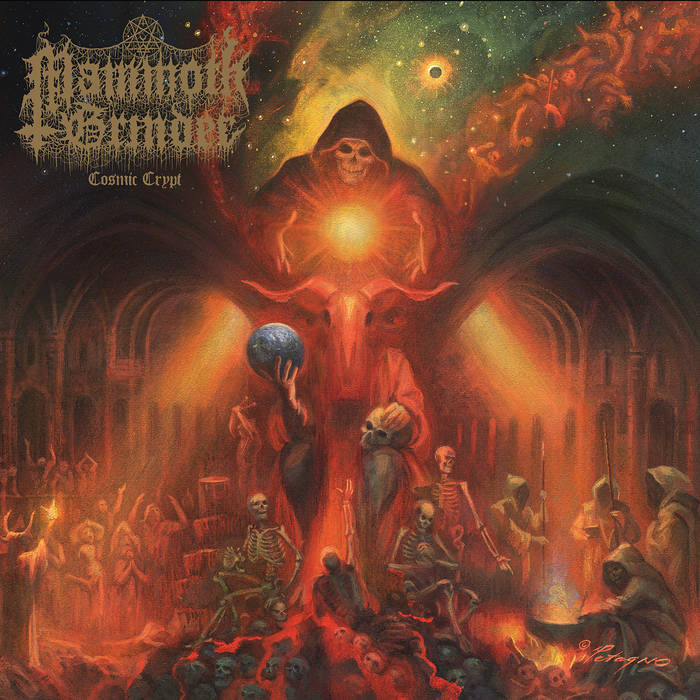 These Texans provide us with a punky death metal onslaught. This mammoth of a record will grind your hearing to dust riff by riff.
Portal – ION
If you are into a weird (in a positive sense of the word) kind of death metal, you should not pass on the latest album of this Australian band. Almost Ulcerate-like brutality achieved through deep guttural vocals, buzzing guitars and chaotic drums. This is the portal that leads directly to your worst nightmare.
Accu§er – The Mastery
A pretty cool groovy thrash metal record that manages to sound modern, but still has a bit of an old-school Teutonic thrash vibe.
In Vain – Currents
In Vain's previous effort, Ænigma, was nothing short of a masterpiece that mixed progressive metal, melodic death metal and melodic black metal in perfect proportions. Therefore it is understandable that I was anxious to hear the new album entitled Currents. I am still not sure, if the band managed to reach the same level as on this record's predecessor, but there are two things I am sure of: first, Currents leans more on the progressive side of In Vain's musical spectrum, and, second, it is a great record.
Tribulation – Down Below
There are quite a few metal bands that embrace horror as their main lyrical theme, but it's Tribulation that proves that scary can be catchy too. Down Below sucks you in by shrieking vocals characteristic of black metal and tasty riffs reminiscent of the gothic rock greats.
Monolithe – Nebula Septem
Monolithe started out as a funeral doom metal band, but then changed their style to cosmic doom metal similar to what their compatriots Ixion create. Surprisingly though, the Frenchmen feel as comfortable in their new style as they did in the old one. Listening to Nebula Septem feels like being left alone in outer space, torn between the grandeur of the Universe and the hopeless solitude.
Hooded Menace – Ossuarium Silhouettes Unhallowed
The Pale Rider is here again to reap the harvest of mortal souls. This is the fifth full-length album of the band from Finland, and so far Hooded Menace was quite consistent sticking to the old-school death/doom metal sound. Ossuarium Silhouttes Unhallowed shifts a bit more toward doom metal compared to the earlier records, but it does not mean that the band renounced its sound. Rather, Lasse Pyykkö and Co expanded on the foundation laid down on the previous albums to create what could become a modern death/doom classic.
Orphaned Land – Unsung Prophets & Dead Messiahs
The biggest metal diplomats have been preaching the peace between the people and the religions for more than two decades now. Unsung Prophets & Dead Messiahs follows in the vein of the previous band's album, All Is One, despite the departure of the guitarist and one of the main composers Yossi Sassi back in 2014. It's still progressive metal with strong Middle-Eastern folk music influence. Yet the length of the album and the scarcity of memorable songs (by the way, one of them, Like Orpheus, features Hansi Kürsch of Blind Guardian) make this record a bit of a disappointment for me.
That's it for January. I hope you enjoy my selection. You can also check out my Youtube playlist of the month.
See you next month!